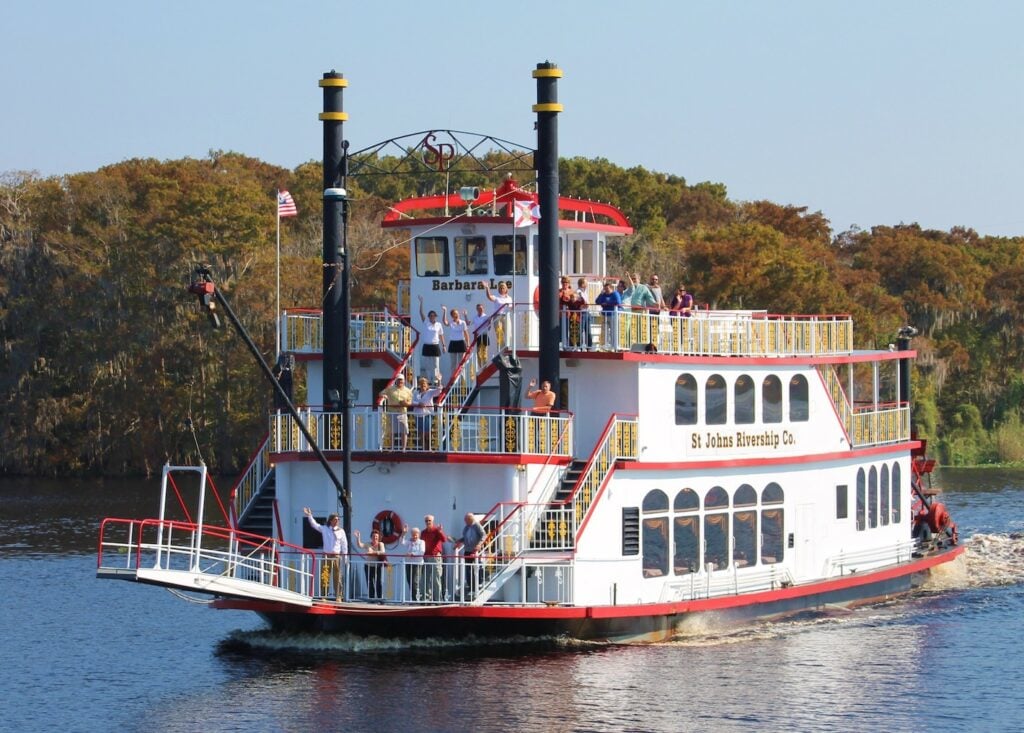 The Rivership Barbara-Lee is an authentic sternwheeler that sails the St. Johns River.  The ship measures 105 feet from stem to stern and was built in 1986, refurbished in 2012 for its inaugural St. Johns River cruise.  Featuring ornate wrought iron railings and wooden paddle wheels, the Barbara-Lee exudes the elegance of historical steamers on the St. Johns River.
The ship has five decks and can accommodate up to 194 guests, making it suitable for hosting events of varying sizes. All enclosed decks have climate control.
Grand Salon Deck
Seats 94 and features an elevated Main Stage, dance floor and well-stocked bar
Mezzanine Deck
Seats 40 and offers views of the paddlewheel and Main Stage
Lookout Deck
Seats 68 and features its own dance floor with a "lookout" through to the Main Stage.
Paddle wheel Deck
A covered open-air deck overlooking the wheels allows you to stay out of the sun while enjoying unobstructed views of the river and its wildlife.
Captain's Deck
The topmost, open-air deck featuring benches and the captain's steering cabin
The Barbara-Lee uses diesel engines for the twin paddlewheels, ensuring safety and reliability compared to traditional steam engines.  The St. Johns River has a rich history, dating back to the early 1500s when it was explored by Europeans.  Steamboats were first known to sail the St. Johns River in the 1830s, becoming a vital link between north and central Florida.  Tourism to Florida boomed in the late 19th century, and Jacksonville became a gateway to the warm winter retreats in Central Florida.
General Henry S. Sanford purchased land on Lake Monroe, creating a river port city that eventually became the City of Sanford.  By the late 19th century, approximately 150 steamships operated on the St. Johns River, carrying significant freight and passengers.
Today, the St. Johns Rivership Co. revives the traditions of historical sternwheelers and celebrates America's great sternwheeler heritage.